Sermons by Pastor Dwayne:
Pastor Dwayne Piper, September 18, 2011
Part of the
Sunday Morning Topical
series, preached at a
Sunday Morning
service
Do you know just how closely the Nation of Israel and Born-again Christians have been, are, and shall be linked throughout all time? While Orthodox Judaism is certainly not the path to heaven, since it denies Israel's Messiah and consequently His Blood Atonement (Romans 10:1-4,8-13), the NATION of Israel itself holds great significance throughout the ENTIRE Bible. Learn some of the deep parallels between the literal nation of Israel and the spiritual nation of born-again believers (1 Peter 2:9-12). For the Christian, it is critical to be or become pro-Israel! The Bible clearly implies that God puts a curse on any who will not bless Israel (Gen.12:3; 27:29; Deut.24:9). Finally, learn something about yourself as a born-again saint, by learning about Israel!
Romans 10:1-4
1Brethren, my heart's desire and prayer to God for Israel is, that they might be saved. 2For I bear them record that they have a zeal of God, but not according to knowledge. 3For they being ignorant of God's righteousness, and going about to establish their own righteousness, have not submitted themselves unto the righteousness of God. 4For Christ is the end of the law for righteousness to every one that believeth. (KJV)
Jeremiah 31:35-37
35Thus saith the LORD, which giveth the sun for a light by day, and the ordinances of the moon and of the stars for a light by night, which divideth the sea when the waves thereof roar; The LORD of hosts is his name: 36If those ordinances depart from before me, saith the LORD, then the seed of Israel also shall cease from being a nation before me for ever. 37Thus saith the LORD; If heaven above can be measured, and the foundations of the earth searched out beneath, I will also cast off all the seed of Israel for all that they have done, saith the LORD. (KJV)
Romans 11:1-36
1I say then, Hath God cast away his people? God forbid. For I also am an Israelite, of the seed of Abraham, of the tribe of Benjamin. 2God hath not cast away his people which he foreknew. Wot ye not what the scripture saith of Elias? how he maketh intercession to God against Israel, saying, 3Lord, they have killed thy prophets, and digged down thine altars; and I am left alone, and they seek my life. 4But what saith the answer of God unto him? I have reserved to myself seven thousand men, who have not bowed the knee to the image of Baal. 5Even so then at this present time also there is a remnant according to the election of grace. 6And if by grace, then is it no more of works: otherwise grace is no more grace. But if it be of works, then is it no more grace: otherwise work is no more work. 7What then? Israel hath not obtained that which he seeketh for; but the election hath obtained it, and the rest were blinded 8(According as it is written, God hath given them the spirit of slumber, eyes that they should not see, and ears that they should not hear;) unto this day. 9And David saith, Let their table be made a snare, and a trap, and a stumbling block, and a recompence unto them: 10Let their eyes be darkened, that they may not see, and bow down their back alway. 11I say then, Have they stumbled that they should fall? God forbid: but rather through their fall salvation is come unto the Gentiles, for to provoke them to jealousy. 12Now if the fall of them be the riches of the world, and the diminishing of them the riches of the Gentiles; how much more their fulness? 13For I speak to you Gentiles, inasmuch as I am the apostle of the Gentiles, I magnify mine office: 14If by any means I may provoke to emulation them which are my flesh, and might save some of them. 15For if the casting away of them be the reconciling of the world, what shall the receiving of them be, but life from the dead? 16For if the firstfruit be holy, the lump is also holy: and if the root be holy, so are the branches. 17And if some of the branches be broken off, and thou, being a wild olive tree, wert graffed in among them, and with them partakest of the root and fatness of the olive tree; 18Boast not against the branches. But if thou boast, thou bearest not the root, but the root thee. 19Thou wilt say then, The branches were broken off, that I might be graffed in. 20Well; because of unbelief they were broken off, and thou standest by faith. Be not highminded, but fear: 21For if God spared not the natural branches, take heed lest he also spare not thee. 22Behold therefore the goodness and severity of God: on them which fell, severity; but toward thee, goodness, if thou continue in his goodness: otherwise thou also shalt be cut off. 23And they also, if they abide not still in unbelief, shall be graffed in: for God is able to graff them in again. 24For if thou wert cut out of the olive tree which is wild by nature, and wert graffed contrary to nature into a good olive tree: how much more shall these, which be the natural branches, be graffed into their own olive tree? 25For I would not, brethren, that ye should be ignorant of this mystery, lest ye should be wise in your own conceits; that blindness in part is happened to Israel, until the fulness of the Gentiles be come in. 26And so all Israel shall be saved: as it is written, There shall come out of Sion the Deliverer, and shall turn away ungodliness from Jacob: 27For this is my covenant unto them, when I shall take away their sins. 28As concerning the gospel, they are enemies for your sakes: but as touching the election, they are beloved for the fathers' sakes. 29For the gifts and calling of God are without repentance. 30For as ye in times past have not believed God, yet have now obtained mercy through their unbelief: 31Even so have these also now not believed, that through your mercy they also may obtain mercy. 32For God hath concluded them all in unbelief, that he might have mercy upon all. 33O the depth of the riches both of the wisdom and knowledge of God! how unsearchable are his judgments, and his ways past finding out! 34For who hath known the mind of the Lord? or who hath been his counseller? 35Or who hath first given to him, and it shall be recompensed unto him again? 36For of him, and through him, and to him, are all things: to whom be glory for ever. Amen. (KJV)
Hebrews 6:13-20
13For when God made promise to Abraham, because he could swear by no greater, he sware by himself, 14Saying, Surely blessing I will bless thee, and multiplying I will multiply thee. 15And so, after he had patiently endured, he obtained the promise. 16For men verily swear by the greater: and an oath for confirmation is to them an end of all strife. 17Wherein God, willing more abundantly to shew unto the heirs of promise the immutability of his counsel, confirmed it by an oath: 18That by two immutable things, in which it was impossible for God to lie, we might have a strong consolation, who have fled for refuge to lay hold upon the hope set before us: 19Which hope we have as an anchor of the soul, both sure and stedfast, and which entereth into that within the veil; 20Whither the forerunner is for us entered, even Jesus, made an high priest for ever after the order of Melchisedec. (KJV)
Acts 13:46
46Then Paul and Barnabas waxed bold, and said, It was necessary that the word of God should first have been spoken to you: but seeing ye put it from you, and judge yourselves unworthy of everlasting life, lo, we turn to the Gentiles. (KJV)
Isaiah 42:1
1Behold my servant, whom I uphold; mine elect, in whom my soul delighteth; I have put my spirit upon him: he shall bring forth judgment to the Gentiles. (KJV)
Isaiah 49:6
6And he said, It is a light thing that thou shouldest be my servant to raise up the tribes of Jacob, and to restore the preserved of Israel: I will also give thee for a light to the Gentiles, that thou mayest be my salvation unto the end of the earth. (KJV)
Genesis 12:3
3And I will bless them that bless thee, and curse him that curseth thee: and in thee shall all families of the earth be blessed. (KJV)
Numbers 24:8-9
8God brought him forth out of Egypt; he hath as it were the strength of an unicorn: he shall eat up the nations his enemies, and shall break their bones, and pierce them through with his arrows. 9He couched, he lay down as a lion, and as a great lion: who shall stir him up? Blessed is he that blesseth thee, and cursed is he that curseth thee. (KJV)
Matthew 10:40
40He that receiveth you receiveth me, and he that receiveth me receiveth him that sent me. (KJV)
Luke 10:16
16He that heareth you heareth me; and he that despiseth you despiseth me; and he that despiseth me despiseth him that sent me. (KJV)
John 13:20
20Verily, verily, I say unto you, He that receiveth whomsoever I send receiveth me; and he that receiveth me receiveth him that sent me. (KJV)
(Sermon Audio Copyright by Dr. Dwayne Piper:  Permission to Copy, But Not for Resale)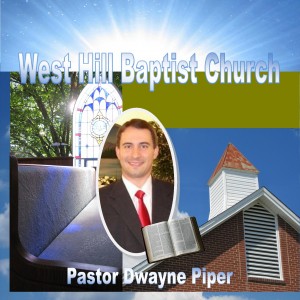 Piano Music by Mrs. Kristen: