Sermons by Pastor Dwayne:
Choose Your Fears Wisely (Matthew 6:24-25, Matthew 6:31-34)
Pastor Dwayne Piper, May 1, 2011
Part of the
Sunday Morning Topical
series, preached at a
Sunday Morning
service
Did you know you can choose what things you fear in life? In fact, God wants you to choose! Find out what you should and should not fear.
Matthew 6:24-25
24No man can serve two masters: for either he will hate the one, and love the other; or else he will hold to the one, and despise the other. Ye cannot serve God and mammon. 25Therefore I say unto you, Take no thought for your life, what ye shall eat, or what ye shall drink; nor yet for your body, what ye shall put on. Is not the life more than meat, and the body than raiment? (KJV)
Matthew 6:31-34
31Therefore take no thought, saying, What shall we eat? or, What shall we drink? or, Wherewithal shall we be clothed? 32(For after all these things do the Gentiles seek:) for your heavenly Father knoweth that ye have need of all these things. 33But seek ye first the kingdom of God, and his righteousness; and all these things shall be added unto you. 34Take therefore no thought for the morrow: for the morrow shall take thought for the things of itself. Sufficient unto the day is the evil thereof. (KJV)
(Sermon Audio Copyright by Dr. Dwayne Piper:  Permission to Copy, But Not for Resale)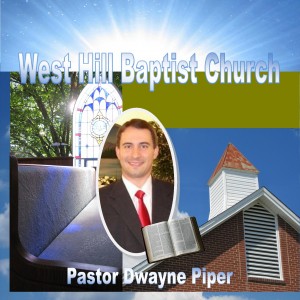 Piano Music by Mrs. Kristen: